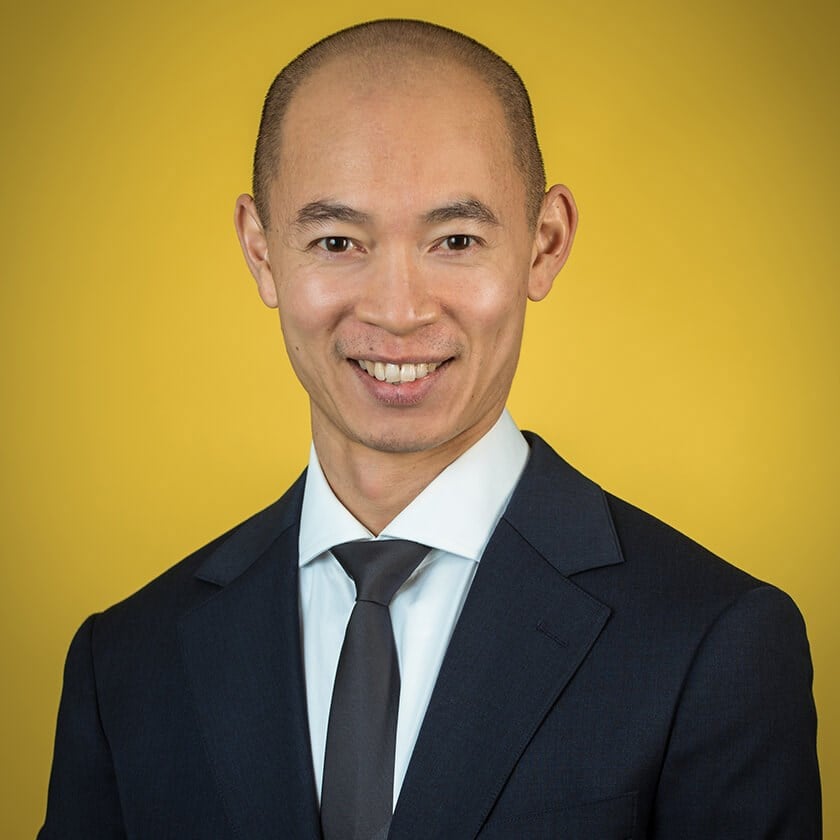 After growing up in Texas and Ohio, Dr. Ou pursued medicine at The Ohio State University College of Medicine in Columbus, Ohio. After graduating, he completed his residency and ophthalmology training at Indiana-Purdue University's Eugene & Marilyn Glick Eye Institute. Dr. Ou served as Chief Resident while at Indiana University Ophthalmology. He has been published in The Journal of Retinal and Vitreous Diseases, The Journal of Cancer Research and Journal of Biological Chemistry. Dr. Ou is a member of the American Academy of Ophthalmology and the American Society of Cataract and Refractive Surgery. He has been board certified since July 2015.
In his free time, Dr. Ou is a slave to his two dogs: one sweet, gentle Doberman Pinscher, LB, and one fierce 10-pound Maltese/Poodle, Gizmo. When he's not running or throwing a frisbee with LB and Gizmo, he enjoys biking and tennis. Ou also has a constant appetite so he enjoys eating and watching Netflix. Recently he's been expressing his creativity in leather working.

Reviews
"Dr. Hartzell is a miracle worker as far as I'm concerned! In just 2 years my eye sight had gotten extremely bad. I couldn't read anything without glasses. I wanted lasik surgery to eliminate glasses and correct my bad vision. My night vision was also terrible, it was like everyone had their high beams on. After my eye exam I found out I had cataracts. I never expected that! I was very scared about surgery. Every one there was so kind and professional. Dr. Hartzell removed the cataracts and my sight is unbelievable!!! I actually read my fortune cookie at PF Changs and amazed my family. I would encourage anyone thinking eye surgery to call the Eye Center and ask for Dr. Hartzell!"
L.M.
Yelp
"The optometrists are very friendly and they go through a lot of questions to make sure you're getting the correct eye care. They work with a lot of insurances. Their products are good. My only complaint is the lady who works in the glasses part is not always very friendly. Also, my glasses got scratched and they are supposed to be scratch resistant, so I called because they are under warranty and had a lot of trouble getting replacements. This part was ridiculous."
J.T.
Yelp
"Came here for my eye and contact lens exam and my 5 yo son's first eye exam. Dr Bonner was fantastic and so were all of the staff. My son actually had fun and didn't worry a bit. I'm one of "those" that hates anyone messing around near my eyes and he was so great, I really wasn't uncomfortable. Had to bring my glasses back, after my 2 yo tried to clean them for me and bent them into the strangest shape. The technician had no problem fixing what I was sure was unfixable. It's been 2 months and they're still holding strong. Only thing that stinks about this location is there minimal hours."
T.R.
Google
"Having cataracts in both of my eyes had affected my vision over time so much that it was hard to do anything in my daily life. It was also getting very bad driving at night from all the bright lights affecting my vision even more going to and from work. A friend had recommended this eye center so we called and made an appointment and met with Dr. Hartzell. He explained what was going on with my eyes and we began preparations for my surgery. The entire staff was very helpful through the whole process and made things go smoothly. Both surgeries went very well and my sight had improved so much just after 24 hours and kept getting better! Thank you to the great staff for being so helpful and special thanks to Dr. Hartzell for removing my clouded vision and bringing back the wonderful colors and sight back into my life! I can now see very clearly with no issues!Thank you,Iba C."
I.C.
Google