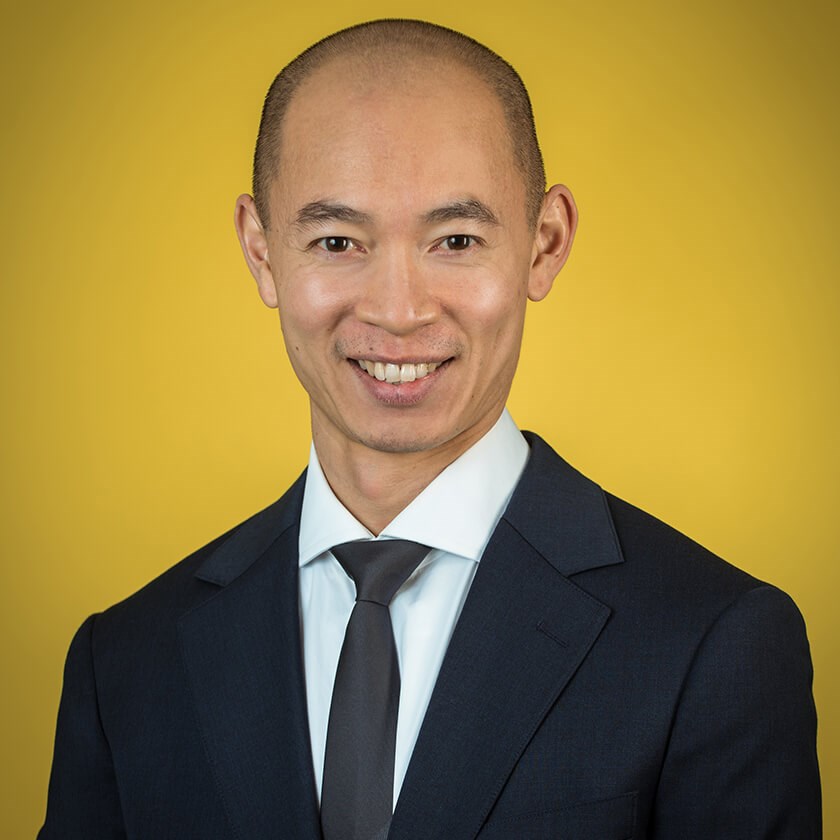 After growing up in Texas and Ohio, Dr. Ou pursued medicine at The Ohio State University College of Medicine in Columbus, Ohio. After graduating, he completed his residency and ophthalmology training at Indiana-Purdue University's Eugene & Marilyn Glick Eye Institute. Dr. Ou served as Chief Resident while at Indiana University Ophthalmology. He has been published in The Journal of Retinal and Vitreous Diseases, The Journal of Cancer Research and Journal of Biological Chemistry. Dr. Ou is a member of the American Academy of Ophthalmology and the American Society of Cataract and Refractive Surgery. He has been board certified since July 2015.
In his free time, Dr. Ou is a slave to his two dogs: one sweet, gentle Doberman Pinscher, LB, and one fierce 10-pound Maltese/Poodle, Gizmo. When he's not running or throwing a frisbee with LB and Gizmo, he enjoys biking and tennis. Ou also has a constant appetite so he enjoys eating and watching Netflix. Recently he's been expressing his creativity in leather working.

Reviews
"The crew at this office is great. Very attentive and efficient. Dr. Hensel is down to earth and knows his stuff. So happy with my new multifocal contacts. I can now see near and far without glasses!!! 👍"
P.W.
Google
"My visit was due to cataracts.I can't begin to explain how elated I am that I was referred to him.Very patient and knowledgeable.He knew what my issues were and I did not have to say much.His staff was very professional and made me feel at ease.I had my surgery and I couldn't be happier.I would definitely refer Dr. Ou."
J.
Healthgrades
"Dr. Bechtel is courteous, professional, and a good listener. The office is friendly and efficient. Everything I wanted from a first appointment."
D.E.
Google
"I recently went to the Muncy eye center for a eye exam and glasses. After my eye exam I went into the Optical to look at frames. Because of Covid only one person at a time is aloud in which I think is better because I had a sales clerk named Kathy. At first I thought she seemed very stressed out but I was wrong. She was very professional and explained all that needed answered. I ordered my new glasses got them but they hurt my bridge on my nose. I called Kathy said come in and she'll re adjust them. She did but they still hurt my nose so she talked to her manager and called to let me know I could exchange my frames for a lighter pair. I went today and she helped me pick a lighter pair. I should get them in 7 days. I want to thank Kathy for going the extra mile for me. More people should be like her. I sure hope her boss reads this to see that people appreciate a sales person like her."
B.B.
Yelp
"Dr. Bonner and his staff are really great. I have never had such a complete and thorough eye exam. Dr. Bonner explained everything he was doing. His staff made me feel welcomed and comfortable. I would highly recommend."
C.M.
Google